Description
Taste Profile
Other
Kyrö Gin
Have you ever stood barefoot on a misty meadow after a sauna, or run naked through a field of rye? We have – and we've captured these moments in our Kyrö Gin.

Made with 100% rye and local wild botanicals including birch leaves and meadowsweet, Kyrö Gin embodies the fragrance and flavour of a fresh Finnish summer.
An award-winning spirit, Kyrö Gin was voted as the World's Best Gin for Gin & Tonic by the IWSC in 2015. Add tonic, plenty of ice and garnish with cranberries and a sprig of rosemary for a delicious Kyrö Gin serve.

Size: 500ml
ABV: 42.6%
Taste
Herbal and sweet

Gentle citrus

Peppery rye
Nutritional value per 100ml:
Energy 985 kJ / 235 kcal
Protein 0 g
Carbon hydrate 0 g
Sugar 0 g
Fat 0 g
Saturated fat 0 g
Salt 0 g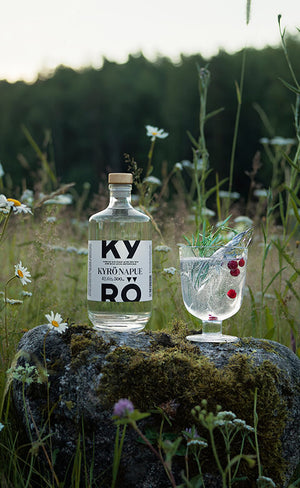 Finnish gin made with 100% rye and wild local botanicals.