Description
Taste Profile
Other
Kyrö Malt

It all started with five friends in a sauna, pondering why nobody in Finland was making rye whisky. We had no idea how to make whisky the "right" way, so we did it our way – and Kyrö Malt is where the story of Kyrö Distillery Company began. 
Made with 100% malted Finnish rye, Kyrö Malt is a whisky that proudly breaks the mould. It is double pot distilled and aged in a combination of new American oak and ex-bourbon casks, resulting in intense pepperiness, balanced with sweet notes of caramel and vanilla.

It's perfect sipped as it is, in a whisky sour – or any way you like.

Size: 700ml 
ABV: 47.2%
Nose:

Pepper


Vanilla

Caramel

Dried fruits
Palate:
Sweet rye bread

Honey

Wild berries

Smooth finish with caramel and mocha
Nutritional value per 100ml:
Energy 1092 kJ / 216 kcal
Protein 0 g
Carbon hydrate 0 g
Sugar 0 g
Fat 0 g
Saturated fat 0 g
Salt 0 g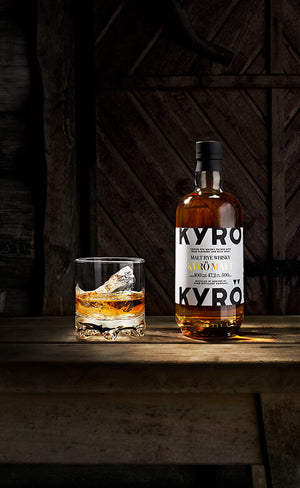 Finnish malt whisky made with 100% rye aged in new white oak casks